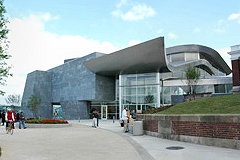 Downtown, Art District
10 Bluff View
Chattanooga, TN (Map)
Online
Contact

(423) 267-0968
Events at this location…
Tomorrow

thru Fri. Jun 30th

Imagination meets invention when campers meld art and robotics to create something truly distinctive. Full day camps run from 9am to 4pm and include snacks. Campers are asked to bring a peanut-free, brown bag lunch. Admission is $184 for...
Know something we don't?
Submit an event for this venue
Follow us on Facebook & Twitter to always know about upcoming events...
Flag this Place?
Reason for flagging this place:
What is this?
Chattanooga Bridge is lovingly maintained by a small group of Chattanoogans who want to connect locals and tourists to all that our city has to offer.
Know something we don't?